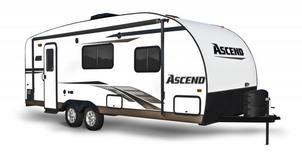 EverGreen LLC, Inc., innovators in the RV industry and creators of the first lightweight composite RVs, have announced they are adding a new line of travel trailers to their existing brands Ever-Lite, Ever-Lite Select, Element, and i-Go travel trailers and fifth wheels. The new affordable, lightweight travel trailer has been named the "Ascend," and will start making the rounds at shows and other events this month.
The Ascend is EverGreen's most affordable, lightweight towable RV—perfect for the entry-level RV buyer or someone looking for an easy-to-tow camper that's built with the same features and quality that make up the "EverGreen Difference." With six versatile floor plans and various options to choose from, the Ascend is an intriguing choice for anyone looking to purchase an affordable, lightweight travel trailer that is packed with standard features.
"Built to Last and Easy to Tow"
It all starts with Ascend's vacuum laminated aluminum framed composite walls and floor. Composites make the coach more lightweight, making the Ascend easier to tow even with smaller tow vehicles like mid-sized SUVs or sedans. Because it's easier to tow, the Ascend saves on fuel costs as well. EverGreen's lightweight composites resist the occurrence of mold, mildew, and rot that eat away other RVs over time. They also reduce the occurrence of VOC "off-gassing," making the Ascend healthier for your family.
"Attractive and Tough"
A high-gloss laminated one-piece fiberglass roof and exterior walls not only make the Ascend look good; they make it stronger. A single seamless piece of fiberglass runs the entire length of the camper to make up its roof. The roof's glossy finish is highly attractive, but also less prone to leaks or other problems because it has fewer seams. In conjunction with the lightweight composite walls and floor, the fiberglass reinforced exterior skin of the Ascend is built to be tougher and weigh less than other towable RVs of similar size. The underside of the Ascend is built with composites to better protect the coach from the elements.
"Quality Design Features that are Unmatched"
The EverGreen Difference is defined by more than just quality construction. There are standard features available on the Ascend that can't be found on similar campers. From a superior fit and finish to design details like a kitchen skylight, aluminum framed pass through storage and bed base, dual gas struts under the bed for easier storage access, an inner-spring mattress rather than foam, large deep tinted windows with safety glass, a 4-point gear driven slide system, 6 gallon gas/electric DSI water heater, and a large double door refrigerator freezer.
Other differences found on the Ascend include a fresh water tank placed directly over the axle to reduce tongue weight and increase storage, as well as Beauflor padded enhanced flooring, adjustable axle hangers to lower or raise the unit height, up to a 15,000 BTU roof air conditioning unit, a 3-year structural warranty, and 1-year of roadside assistance. It's hard to find another travel trailer on the market that has as many features and is as well built as the Ascend. Lightweight, affordable, and easy to tow -- that's the Ascend from EverGreen