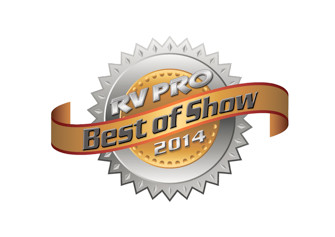 EverGreen RV is proud to announce the Amped Toy Hauler received 2014 Best of Show honors from RV Pro Magazine.
RV Pro explained why EverGreen's Toy Hauler packed a punch in 2014. "The Amped offers several features typically found only in upscale fifth-wheels. This includes substantial pass through trunk and basement storage space thanks to its Z-Frame Technology. The fact that the toy hauler ramp can be partially lowered to create a patio deck is also a nice bonus."
The Amped Toy Hauler is available in five floor plans ranging from 22 to 32 feet. Other unique features include the use of composite materials in the interior sidewalls and wall-to-wall loading with no wheel wells in the garage area. As with all EverGreen RV's the Amped features the DuraLite Double Welded Aluminum Structure.
To learn more about the Amped Toy Hauler check out the video.